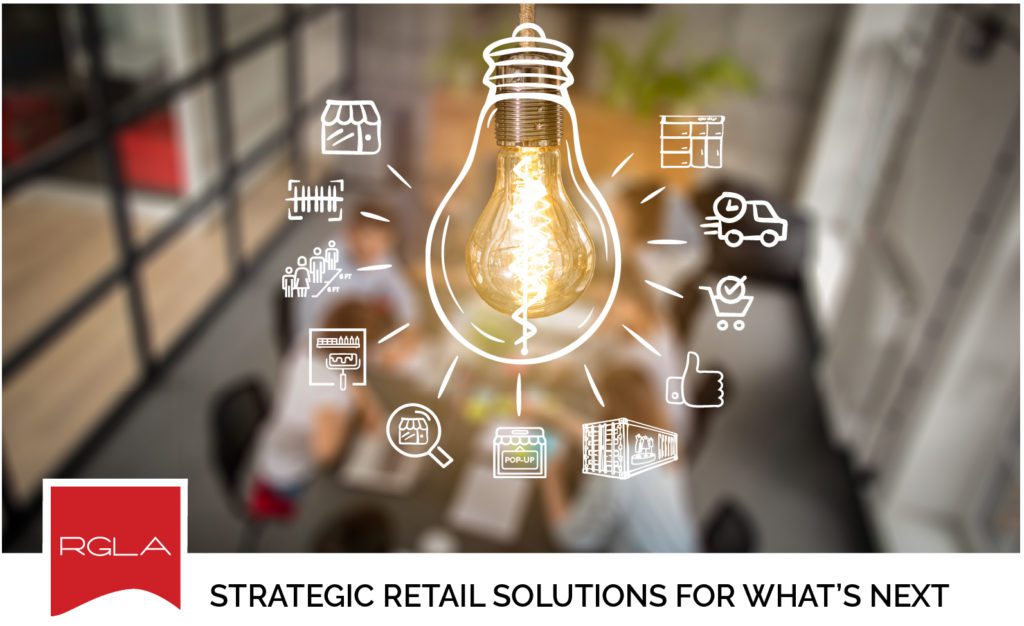 The pandemic has undoubtedly taken a toll on the retail industry but with the grit and resilience of our retail community we have no doubt that we will come out stronger. While it may be challenging, the time is now to take the competitive lead, remain top of mind with your costumers, leverage all of your channels of distribution, and continue to build upon your brand positioning and loyalty. Below are a few key strategies we feel may be worth your exploring and that RGLA has the experience to help you implement.
Short-term is the New Long-term (rethinking POP-UP strategy)…


While pop-up retail has been trending the last few years to test or amp up excitement with new concepts, sites, markets, product drops and brand activations in a low-risk, low-cost way, this has become a mission critical strategy this year. POP-UP strategy can be an ideal means to conduct low-cost short term tests of available real estate or allow you to take advantage of temporary selling opportunities. Let RGLA help you craft an agile POP-UP program that is in tune with your goals whether that is managing the overflow crowds on key locations as the holiday season approaches, testing or expanding your locations in new markets or developing new store formats/business models that let you quickly test ideas before committing to bigger spaces or long-term leases.

Shop-in-Shop Collaborations…


Similarly to POP-UPs, the shop-in-shop strategy is building more momentum as more and more brands are looking to collaborate and share spaces within their stores to increase brand exposure and sales. RGLA can help you develop/implement a turnkey shop-in-shop program that builds upon your brand's objectives and value proposition consistently across retail environments.

Re-imagine the In-person Experience…


Retail is no longer "just stores" but an integral part of the brand omnichannel ecosystem providing a fluid connected experience and a touchpoint solution for brand awareness, customer engagement, showcasing of key products/classifications or same-day delivery in key markets. Whether rethinking the retail model from high capacity spaces to experiential showroom, converting under performing retail locations to mini fulfillment centers or a hybrid model to speed deliveries, or evolving store formats to accommodate curbside pick-up and BOPIS among other customer-centric strategies, RGLA can help develop design thinking strategies to evolve your prototype while solving the operational challenges at hand.

Technology Innovations in Tune with your Brand…


Finding the right technology that enhances the essence of your brand while transforming the customer activation and interaction within your store is key. Integrating the mobile app experience within the Brick & Mortar can create great synergies with your other distribution channels and marketing efforts. Implementing new features such as virtual waiting list, virtual try-on, mobile pay, and mobile concierge among other augmented reality initiatives can increase the value proposition of your brand while promoting loyalty and convenience. RGLA can help guide you through the vast array of technology options and also develop 3D walk-thrus to help you visualize the potential of some of these options within your store environment.

Refresh & Remodel your Rollout Program…


Refreshes and remodels may be strategic options that can update your existing store environments, brand messaging and product presentations for a fraction of the cost of a new store or complete remodel. RGLA can provide a full range of design and implementation services to provide turn-key updates that not only comply with new store formats or lease renewals but that are in line with the new CDC Guidelines that may become long term best practices.

Faster to Market…


While you are waiting to fully reopen some of your locations or are on hold with current projects, RGLA can assist you get started with potential new site research including site surveys, municipal and zoning reviews and feasibility analysis to leverage the many advantageous real estate opportunities currently available in the marketplace. RGLA can also assist with LOI reviews to help you ensure your deal has a successful structure before signing your lease. Let us help you get these projects ready for a quick start resulting in earlier openings.
For more information about these initiatives, contact your RGLA Team leader or email us at info@rgla.com.